August 21, 2016
News Letter
APRIL MEETING PROGRAM
Wednesday, April 19th at 6:30 pm.
Our speaker will be Pompano local, Paul Hurt. Paul will speak  about his dad, who Pompano's first life guard.  Please join us, maybe tell a story of your own. Social hour at 6:30 with refreshments and hot dogs, followed by the the presentation.
MARCH IS COMING IN LIKE A LION!
March 15th is our monthly program. Join us as original Highwaymen Artist, Al Black gives us insight in what it was like to paint and sell Highwaymen paintings on the hot and unfriendly roads of South Florida.
Starts at 6:30 with food and drinks followed by Mr. Black's presentation at 7:30.
All are welcome.
The Highwaymen are coming back for the 6th Annual Art show.
Join us Saturday, March 18th at 5:30 pm for the Art Preview Reception at the historic Sample-McDougald House.
Meet the artists and view their paintings, stroll the gardens under the stars while listening to the sounds of smooth jazz and be taken back to the times when these iconic artists started the 

"Indian River School" art movement.
Heavy appetizers with wine, beer and soft drinks.
A second chance to view and purchase a Highwaymen original paintings will be on
Sunday, March 19th from 10:00 am - 5:00 pm.
Admission is $5.00 per person, which includes a tour of the Sample-McDougald House.
Saturday, March 18, 2017 at 05:30 PM · $50.00 USD 
FEBRUARY PROGRAM
In celebration of Black History Month, we are holding our Wednesday, February 15th program at the Ali Cultural Arts Center.

Ali  is proud to present The Life and Legacy of Karl K. Weaver Sr., as part of their Black History Month celebration. This month-long showcase will examine the impact Weaver had on his community as the first African-American commissioner of Pompano Beach. The exhibit will feature photos from both his personal and professional life, along with newspaper articles, artifacts and personal belongings. 
We are excited for this opportunity to host our meeting in this historical building that is part of the new Cultural Arts District of Pompano Beach.
The Ali Center will also be recognized on Friday, February 10 at 2:00 as a designated Historic Site. Congratulations Ali & Rock Road Historical!


Ali Cultural Arts Center
353 Hammonville Rd
To get there from the Historical Society, go west on 3rd Street to NW 4th Avenue, turn right. There will be a large parking lot on your right.
Meeting will start at 6:30 pm

Light refreshments and sandwiches will be served.

See you there!
LOTS GOING ON IN JANUARY!
JANUARY PROGRAM
WEDNESDAY, JANUARY 18TH AT 6:30 PM
HOOD CENTER, FOUNDERS PARK
217 NE 4TH AVE
POMPANO BEACH
We will have a speaker from the Ah-Tah-Thi-Ki Museum.
Come see the exhibit beforehand so you'll know what questions to ask!
SEMINOLE WAR EXHIBIT ALL MONTH LONG!
Now through the first week in February, Tuesday - Thursday, 9:00 am - 2:00 pm; we will be hosting the Ah-Tah-Thi-Ki Seminole War Exhibit for the entire month! Come and learn about the great Seminole chiefs and warriors as the Seminole-Miccosukee Tribes celebrate the 200th anniversary of the start of the wars. Even more exciting that we are making history by joining with the Bailey Art Center and the Sample-McDougald House by showcasing three separate but related exhibits. This is the first time three historic and art venues in one city has collaborated in a exhibit like this.
The BaCA (the old Bailey Hotel) is showing photographic images "Florida Seminoles in Postcards' from Ethnohistorian, Patsy West's collection in the Blooming Bean Coffee Shop. The display is opening on Friday, January 6th during Untapped. Stop in and see us to learn all about what we are doing! These incredible images will be open now through February 28th, Tuesday - Friday, 10:00 am - 6:00 pm and Saturdays 10:00 am - 4:00 pm.
The Sample-McDougald House exhibit will open on Saturday, January 7th and run on their regular open house times through March 31st. They will be exhibiting 'A History of the Seminole-Miccosukee in Clothing' which features authentic Seminole clothing spanning 1800's up present day. The exhibit is also supplied by Patsy West. Sample Mc-Dougald House's hours are Tuesday - Thursday Saturday 11:00 am - 3:00 pm.
The exhibits as The Historical Society are free to the public; although donations are always welcome. The Sample Mc-Dougald House will charge their normal tour fee of $5.00, which includes the full house tour and the exhibit.
This is an unique opportunity. Make a day and visit all three venues, you could walk them all if you wanted!
DECEMBER HOLIDAY PARTY
Wednesday, December 21, 2016
6:30 pm - 9:30 pm
The annual Holiday Party is just a week away.  Don your festive clothes and join us for a Holiday gathering to remember.          The 3 hour cocktail reception will start at 6:30 and will be catered by Eddy's Chef. Come and join friends and neighbors to celebrate the season.
All are welcome!  
A  $10 donation is suggested, but not required.
NOVEMBER MEETING WITH THE CRA
If you missed November's meeting, Emily has provided a synopsis of her presentation. I think everyone appreciated the interesting and informative program. We hope to have her come and speak again early next year. Thank you again, Emily!
The main takeaway is that the CRA is beginning a  series of major projects in the NWCRA district. We are working to rebuild a vibrant and active downtown for the residents of Pompano Beach. We are looking to both the past and the future for inspiration. We are also drawing on the existing strengths and assets in the community, building relationships and partnerships among and between community groups, schools, universities and local businesses. In doing so, we hope to aid in the creation of new job opportunities in Pompano Beach and ensure that our residents have the necessary skills to qualify for these jobs.
'The vision in Old Town and along Hammondville Road is to once again position it as a hub for culture, activity, employment and public gathering. We are expanding on the CRA's adaptation of the historic Bailey Hotel into its current use as the Bailey Contemporary Art Center, as well as the conversion of the historic Ali Boarding House into the Ali Cultural Arts Center. Recent CRA projects include:
-          Completing a new European-style Public Plaza and adjacent parking lot (new permanent home to Green Market) and     streetscape improvement projects along MLK Blvd. and in Old Town.
-          Exploring creation of more Public Spaces that will continue to prevalence of business attraction efforts like Oldtown Untapped
-          Seeking restaurant and culinary tenants, with two new leases already signed (expect grand openings starting in Summer 2017).
-          Opening a Public Engagement office directly next to BaCA (37 NE 1st st). Members of the public are encouraged to stop by and talk to CRA staff about any questions they may have about ongoing and future projects. (Early 2017 opening). 
-          Advertising for linear drainage system and streetscape improvements design services in the Innovation District
-          Breaking ground on new residential projects including the recent groundbreaking of City Vista Landmark on MLK Blvd.
-          Future programs will include assisting local entrepreneurs through business incubation opportunities.'   
                   
THANK YOU TO ALL WHO WERE THERE TO HONOR JUDY
The weather could not have been nicer. The setting was beautiful. The sun was bright.
I was going to write about Judy's Celebration of Life, but I received the following from Cindy Malaney and she agreed to let me share it.
I was quite touched by the wonderful Celebration of Life Ceremony held yesterday for my friend, Judy Knoebel. The Pompano Historical Society hosted it at the Hood Center in Founders Park.
The service was held outdoors while the sun was setting and the chairs were facing an oak tree which was recently planted in memory of Judy. There were numerous speakers including two of her nieces. The mayor of Pompano Beach gave a talk too (Judy touched many people). She volunteered for so many organizations and had representation from the (Pompano Historical Society, Hillsboro Lighthouse Preservation Society, Pompano Women's Club, Insight for the Blind, Bonnet House, etc.). She won many certificates and awards for her years of volunteering.
She was a wonderful neighbor to my family and me. Recently she wrote a recommendation letter for my daughter for a college academic scholarship (I don't know how she had time to do that with her busy schedule). As everyone at the ceremony said, Judy always had a great smile on her face, enjoyed every minute of her life to its fullest, and did so much for others.
Thank you to the Pompano Historical Society for putting on this celebration of Judy's life. It was perfect in every way (the delicious refreshments, the printed programs, the speakers, the oak tree, the photos and awards that were on display, etc.).
I compiled a photo collage of the ceremony. You can see the beautiful oak tree planted in her name. I plan to come by often and to see it grow in the coming years. Also there are two bricks which will be placed at the Hillsboro Lighthouse and at the Pompano Historical Society. I will continue to volunteer at the Lighthouse Museum which she opened years ago. I hope everyone can come by to visit it sometime and remember Judy.
Cindy
CELEBRATION OF JUDY'S LIFE
SUNDAY, NOVEMBER 20TH AT 4:30 PM
HOOD CENTER, FOUNDERS PARK
217 NE 4TH AVE
POMPANO BEACH
Please come and celebrate the life of Judy Knoebel. Judy gave so much to our community and will be missed by many. Please call Pat at 954-782-3015 for more information.
NOVEMBER PROGRAM
WEDNESDAY, NOVEMBER 16TH AT 6:30 PM
HOOD CENTER, FOUNDERS PARK
217 NE 4TH AVE
POMPANO BEACH
November 16th we will welcome Dahlia Baker and Emily Marcus from the CRA to the Hood Center. Emily will give a presentation on the development plans for the downtown area Along Atlantic to I95. This is a unique opportunity to learn the current and future plans for Pompano as well as learn how they will retain the historic aspects of the different areas while transitioning into an Innovation District
JUDY KNOEBEL
OCTOBER 14, 1944 - OCTOBER 25, 2016
We are very saddened to say that friend and Historical Society Board Member, Judy Knoebel passed away last night. She was surrounded by family and dear friends, Linda and Jim. Her hospital room was decorated with paintings of her beloved lighthouse and ocean scenes. Judy will be missed by so many. Our prayers and thoughts are with her family and her many friends around the world.
Following is copied from The Pelican. Thank you Ann Siren for a beautiful tribute. 
Judy Knoebel raised the bar as a volunteer
Judy Knoebel, 72, died this week after a short illness. Ms. Knoebel, who retired from a 31-year career with AT&T that spanned New Zealand; Brussels, Belgium; Geneva, Switzerland, and Atlanta, Ga., chose to settle in Pompano Beach. The following is composed from excerpts of a 2013 interview with Ms. Knoebel, who spoke with Pelican Knoebel writer, Phyllis Neuberger. "Volunteering was a way to make new friends and get the feeling of really living in the area. It works well for me, and like most volunteers, I receive more than I give." Knoebel said after returning from the newly opened-Hillsboro Lighthouse Museum, where she volunteered as manager. This job had not been her first in the volunteer arena. Ms. Knoebel gave tours at the Bonnett House in Fort Lauderdale. "As I drive six visitors around in a golf cart type vehicle, they and I enjoy the 37 acres of nature and watching the people and the monkeys," she said. The Pompano Beach Historical Society was a natural draw for Knoebel where she served over 10 years as a volunteer and seven years as treasurer of the Society. On Saturday mornings, Ms Knoebel could be found at the Historical Society Green Market tent, greeting visitors with her wide smile. And it was at the tent that she sold Florida farm nuts, jellies and jams to support the Society. She was part of the Society's team to find and tape oral histories from pioneers. Ms. Knoebel sat on the Pompano Beach Historic Preservation Board, a group that identified, documented and registered historic buildings and places to preserve for future generations. At the time of her interview she had volunteered 1,600 hours at Insight for the Blind as a reader and recorder of magazines and books. Children were also recipients of Ms. Knoebel's outreach. In conjunction with the Broward Library System's Prime Time Reading Program, she read to preschoolers. The Pompano Beach Historical Society will host a celebration of life to honor Ms. Knobel. The date has not been announced. Ms Knoebel is survived by two brothers. She is predeceased by a sister.
GET WELL AND BIRTHDAY WISHES FOR JUDY KNOEBEL
Pompano Beach Historical Society's Treasurer and friend to many, Judy in in hospital at North Broward Medical Center after surgery of a fractured hip. Please keep her in your thoughts and prayers. 
We also would like to send Birthday Wishes to her on her birthday Friday October 14. Happy Birthday Judy!
OCTOBER'S PROGRAM
Please join us Wednesday, October 19th at 6:30 for our monthly program. This month Whitney Metevia, President of the Pompano Beach Rotary Club, will be speaking on the history of this charitable organization. They support many worthwhile causes both at home and internationally. The Pompano Beach Rotary Club is unique in that it was chartered in the midst of the Great Depression when all had nothing. But the first members knew that for our community to survive they needed to band together.
You can read a full history written by Whitney's father, Tom Johnston, here: 
www.directory-online.com/Rotary/Accounts/6990/Downloads/4472/Our%20History.pdf
And don't forget about the amazing Haunted House the Rotary Club hosts at the Sample-McDougald House! Maybe we'll hear a few ghost stories too! 
For ticket information on the Rotary Club's Haunted House go to their website: www.pompanobeachrotary.com/
CASINO IN RIO 
Casino night was a great success. A good time was had by all. The food by Eddy's Chef Catering was delicious! The Caipirinha's made by Tara were amazing! The show by SambaLa was exciting! Thank you to all out wonderful sponsors, guests, volunteers and the Board of the Pompano Beach Historical Society who made it all possible.
We would also like to give a nod to Paulo Gualano  The photo of the three beautiful Samba dancers are from his dance group Bateria Unidos de Miami and was taken at last year's Brazillian Fest.
POMPANO BEACH HISTORICAL SOCIETY'S  7TH ANNUAL CASINO FUND RAISER
SATURDAY, OCTOBER 1ST @ 5:30 pm - 11:00 pm
CASINO NIGHT IN RIO
Pompano Beach Historical Society will be hosting its 7th annual fundraiser on Saturday October 1st. In honor of the Olympic Games, this year's theme is 'Casino Night in Rio'. The party starts at 5:30 with a Caipirinha, Brazil's national drink, followed by an authentic Brazilian dinner buffet. The guests will then move to the street for a spectacular live Brazilian show.  After the show, the patrons may move to the west gallery for coffee and dessert or move straight to the second floor casino.
Tickets are only $75.00 per person and include 200 chips to be used on the gaming tables. Your winnings can then be used towards winning gift baskets that will be on display. Extra chips will be available for purchase. There will also be an auction with some special items to be won by the highest bidder.
For more information please call Pat at 954-782-3015
To purchase tickets online, click on Event Calendar at the top of the home page and click on Casino Tickets
To sponsor this exciting event, please call Tom McMahon at 954-709-8678
or email info.pompanohistory@gmail.com
 Casino in Rio
Who:    Pompano Beach Historical Society
What:   Annual Fund Raiser
Where: Bailey Contemporary Art Center
               41 NE 1st St., Downtown Pompano
When:  Saturday, October 1, 2016 @ 5:30 pm – 11:00 pm
Dress:  Festive
Limited Seating. Don't wait to purchase your tickets! You do not want to miss this event!
SEPTEMBER 21ST PROGRAM
Wednesday, September 21 @ 6:30 pm
Summer will be over sooner than you think, so start combing through those recipes.  Wednesday,  September 21st we will host the Traditional Covered Dish Supper.  A great time to catch up with all your neighbors and friends  after the summer break and talk about plans for the coming season. This event is open to everyone, all we ask is you bring a dish to share and, if not a secret, the recipe. We will supply the beverages and tableware.
from the Sun-Sentinel, September 6, 2016
HELEN LANDERS, FORMER BROWARD COUNTY HISTORIAN, DIES AT 93

Regardless of the topic, Helen Landers seemed to know it all about Broward County and was a go-to source for history buffs for decades.
Landers, the county's second and last official historian, died at her Fort Lauderdale home on Sunday, according to friends and family. She was 93.
"She was a delightful person," said Dan Hobby, the former director of the both the Fort Lauderdale and Pompano Beach historical societies. "First of all, she had the most delicious sense of humor. She could be talking about history or government or a public event and people would be laughing. She oftentimes seemed irreverent. But she was very serious about history."
Landers became the county's second official historian in 1990 for the Broward County Historical Commission, which reported directly to the County Commission. As historian, she organized oral histories, presentations of pioneers, she ran luncheons where she'd lecture on various topics, and was a resource "for anything to do with the history of the county," said Steve Glassman, former chairman of the historical commission. "She was the go-to person of the history of Broward County."
For the time she was there, it was a job her family and friends said she adored. "I've lived in Broward County a long time and I've seen a lot of history and lived a lot of history," Landers told the Sun Sentinel in 1990, when she was considered for the $7,000-a-year job.
Landers' family moved to Fort Lauderdale from Springfield, Ill., in 1926, in a trip that took days, puttering along in a Model T Ford. There were no roadside motels, no fast-food restaurants. The family slept in tents pitched by the side of the road or in tourist camps. Landers was 3.
They arrived in October 1926, as South Florida was mopping up from the Sept. 17 hurricane that had killed hundreds.
She told the Sun Sentinel in 1999 that her early memories were of adventure. "You woke up feeling that every day was a new day here and anything could happen," she said.
Landers studied education and history, receiving a bachelor`s degree from Florida State University and a master`s degree from Baylor University in Texas.
She was the principal at the now-closed Fern Hall Private School in Fort Lauderdale, the city's first private school, which her mother had built, and before her county appointment was director of education at the First Methodist Church in downtown Fort Lauderdale.
When she drove her children around town, they'd often get a history lesson.
"Mom just loved history and she loved Fort Lauderdale and Broward County," said her son, James Landers. "She watched it from its infancy and its development over the years. She got underneath the surface and talked about the interesting facets and parts. She knew where all the bones were buried."
In 2010, during the economic downtown, the agency lost its independence and reported to the county's library director instead. In 2013, her job was eliminated to pay for a new library digitalization program. In 2014, the agency was disbanded and replaced with the Broward County Historic Preservation Board. "There is still no county historian," Glassman said. "She was most valuable. She was one of a kind."
In addition to her son James Landers, of Tampa, Landers is survived by her husband of 70 years, R.L. Landers; son Robert Landers, of Lawrenceville, Ga.; one grandchild and one great-grandchild.
lhuriash@sunsentinel.com or 954-572-2008
VisualEYES Program
The City is working with Broward County to complete a mural as part of the County's VisualEYES Program. Artist Cecilia Lueza is required to complete Community Engagement Activities and would like to include the Historical Society in this process.
We ask if you would like to join us in assisting this artist fulfill her mission.
The meeting should take about 1 hour. She will use what she learns to help her create a mural on the E Pat Larkins Center.
This meeting is open to all on Tuesday August 2, at 6:00 pm
Pompano Beach Historical Society
Hood Center
217 NE 4th Ave 
Pompano Beach FL 33060
Please RSVP to reserve a seat.
Thanks for your support! 
VisualEyes Program
SAVE THE DATE! CLEAR YOUR CALENDAR FOR SATURDAY, OCTOBER 1.  IT'S GOING TO BE A CASINO NIGHT LIKE YOU NEVER THOUGHT POSSIBLE!
MARY CRAMER MICKLER
November 27, 1930 - July 9, 2016
MICKLER, Mary Cramer age 85 of Pompano Beach, Florida passed away on July 9, 2016. She was born November 27, 1930 in Ft. Myers, Florida to Francis H. and Pearl Cramer. She was a Pioneer resident of Pompano Beach, Fl. Mary is pre-deceased by her husband Revis A. Mickler and her son Scott Cramer Mickler and great grandson Riley Maynard. She is survived by her sons Robert Mickler (Susan) of Pompano Beach, FL., Douglas Mickler (Barbara) of Vero Beach, Florida and Pete Mickler (Catherine) of Franklin, NC; Visitation will be on Saturday, July 16, 2016 from 10-11 am at First Baptist Church Pompano, 138 N.E. 1st St. Pompano Beach, Fl 33060 with a Funeral Service at 11 AM followed by burial in Pompano Beach Cemetery followed by lunch and refreshments at the First Baptist Church Pompano. In lieu of flowers donations may be made to Lord's Gift House at First Baptist Church Pompano. Arrangements under the direction of Kraeer Funeral Home and Cremation Center, Pompano Beach, FL.
LEON 'BABE' WALTON
We are sad to tell you that long time Pompano resident Leon 'Babe' Walton passed away on July 3 surrounded by his family. The family will have a private service at a later date. Our thoughts and prayers are with the Walton and Whitsett families.
JUSTIN O'KEEFE
Pete William's nephew, Justin O'Keefe, lost his battle with cancer early this morning. 
Justin was diagnosed with brain cancer in 2014. He had emergency surgery in May of that year and had been undergoing rigorous radiation and chemotherapy treatments since then. 
Pete and Justin's family thanks all of you for all for your prayers, blessings, and good thoughts. 
Justin with his sister, Natalie 
*****NEW INFORMATION  ON THE JUNE PROGRAM*****
We will meet at the Hood Center between 5:00 - 5:30 to board the bus at 5:45. Please do not be late. You will not be allowed entry to the Lighthouse unless you are on our list.
June's program is a Sunset Tour of the Hillsboro Lighthouse . Due to a scheduling conflict, the date has been pushed back a week to Wednesday, June 22 from 6:00  to 9:00 pm. There will be a charge of $10.00 per person. This is to help cover costs, including bus transportation to and from the Hood Center to the Lighthouse. We will also have one of the Lighthouse cottages available for our use. There will be no parking available at the Lighthouse, we will meet at the Hood Center; the bus will depart the center at 5:45. If you need to  make arrangements for Handicapped Parking we will need the information as soon as possible. Due to space and to ensure everyone will get a chance to tour the Lighthouse, we need to limit this program to members and cap the count at 50 persons.
To reserve space call or email Pat:
954-782-3015   
info.pompanohistory@gmail.com  or                       
RSVP on the EVENTS link on www.pompanohistory.com
The Lighthouse was first illuminates in March 1907 following a 4,000-mile trip through part of the waterway known as 'The Great Loop' The original light was an incandescent Oil Vapor Lamp (similar to a "Coleman Mantle Lamp") in a revolving Second Order Fresnel Lens. A Lighthouse (head) keeper and two assistant keepers kept the light lit. In 1932 the light was electrified with three 250 watt bulbs which were replaced in 1966 with one 1,000 watt increasing power to 5.5 million CP and a range of 28 NM. The light is the only working Fresnel lens in the world.
The lighthouse's nickname is Big Diamond due to the structure's distinctive shape of glass outside its lantern room.
For more info call or email Pat:
954-782-3015
info.pompanohistory@gmail.com
ON THIS MEMORIAL DAY WE REMEMBER THOSE FROM POMPANO WHO MADE THE GREATEST SACRIFICE.
WORLD WAR I
CUMMING S. REESE
ROBERT WILLIAMS
WORLD WAR II
MARION FUGATE
JAMES GORDON HARDIN JR.
G. STERLING MC CLELLAN JR
HARVEY D. MULKEY
JAMES MULKEY
STANLEY 'H C' ROWLETT
VIET NAM WAR
PETER HENRY ALBRIGHT               
OLIVER BELL JR 
STEPHEN BLANN
THOMAS JOHN BURTON              
RONALD GATES CAMPBELL         
BRAD DONALD CHRISS
CLYDE TERRY CODY         
WILLIAM HARP 
ARTIE EUGENE JOHNSON
JAMES FRANKLIN LAMN
IVORY LEE Mc KINNEY   
GLEN FREDERICK MERRIHEW
RICHARD HERBERT NALEY            
THOMAS FRANK PHILLIPS            
DAVID FREDERICK RHODES
RICHARD LEE ROUSSEAU             
PHILLIP THOMAS STAHL
FRANK HERBERT THOMAS JR
JOHN ROBERT VANDERZICHT     
MICHAEL DWAYNE WALKER
SHELLE GRIFFIN DAVIS
December 31, 1962 - May 21, 2016
Shelle Griffin Davis, 53, died on Saturday, May 21, after a two year battle with leukemia. She left this world with her family and close friends at her side at her Pompano Beach home. Mrs. Davis is the daughter of former Pompano Beach Mayor Bill Griffin and Arlyne Griffin and beloved wife of Brad Davis. She is mother to Kaitlyn Kerr and Kristopher Kerr [Angel] and Griffin Davis and sister to Craig Griffin. She is grandmother to Mason Delahoz.
Mrs. Davis graduated from Cardinal Gibbons with honors, worked as an aide at McNab Elementary School and was a member of Bible study at Christ United Methodist Church in Pompano Beach. A vivacious woman all of her life, she cherished her family and her community. 
Services for Mrs. Davis will be private. Family members have requested that in lieu of flowers, donations be made to Hospice by the Sea; Miami Sylvester Cancer Center or the Leukemia Society.
For full obituary, please go to: http://pelicannewspaper.com/wp-content/uploads/2016/05/Pelican-5.27.16.pdf
MAY PROGRAM
Unfortunately we had to cancel our May program due to the flooding of our parking lots and the streets adjacent. We were all disappointed. We plan to show the movie another, maybe after the rainy season over ;). We will let you know when.
In Memory of
Josephine M. Whitworth
October 21, 1929 - May 9, 2016
Whitworth, Josephine M. age 86 of Delray Beach, FL passed away on May 9th, 2016. Born in Cuyahoga Falls, Ohio, she was a longtime resident of Pompano Beach, working with the family farming business. Predeceased by her husband, John I. Whitworth, Jr. she is survived by her children: John I. (Mary) Whitworth III, Cathy W. Lee, Thomas I. (Carol) Whitworth, and Wade Glenn Whitworth; by grandchildren: Melissa, Jamie, Christy, Quad, Glenn Jr., and Savannah; and by numerous great- grandchildren.
Visitation will be 9:30-11:00 am Thursday, May 12th with an 11:00 am Celebration of Life Service at the Christ Church, United Methodist of Pompano Beach.
Josephine will be laid to rest in the Pompano Beach Cemetery. Arrangements were made by: Kraeer Funeral Home and Cremation Center, 200 N. Federal Hwy., Pompano Beach, FL 33060. Phone: 954-941-4111.
In lieu of flowers, donations may be made to Christ Church of Pompano Beach or to Hospice by the Sea
WEDNESDAY MEETING PROGRAM - MAY 18
MOVIE NIGHT
Bring your lawn chair or use the chairs in the Hood Center. For our May program. We will be sitting in the park under the stars while watching "Safe at Home", a 1962 filmed right here in Pompano Beach (and Ft. Lauderdale). The movie stars base-
ball greats; Mickey Mantle and Roger Maris and William Frawley (you probably know him better as Fred Mertz). Prizes for those who can identify the most Pompano locations in the movie. A big thanks to Bruce for suggesting this great program! 
Social starts at 7:00 pm with Ballpark Hot Dogs, Popcorn and CrackerJacks!
Movie starts at sunset: 8:01 pm
SAMPLE-MCDOUGALD HOUSE CENTENNIAL CELEBRATION
SATURDAY MAY 14 5:00 TO 10:00 pm
Join in the Centennial Celebration the of the Sample-McDougald House with a "down home" gala. Entertainment, beverages, and lavish BBQ cooked on site by Porky & Beth. Silent art auction and live auction by guest auctioneer Mayor Lamar Fisher -- win a ride for two on the Goodyear Blimp or a long weekend at A Tranquil Landing in Hopetown, Elbow Cay, Abaco, Bahamas.  Tickets are $100. and must be purchased in advance. Go to samplemcdougaldhouse.com to purchase tickets.
 SUNDAY MAY 15 10:00 am to 4:00 pm
The celebration continues on Sunday from 10 am to 4 pm  with Family Day. Bring the family for hands on activities, pony rides, petting zoo, arts and craft demonstrations and more. Admission $10. with children 12 and under FREE. We will have a booth in the pavilion showcasing some interesting memorabilia and delicious goodies for sale from the Farm Bureau from Pompano's history. Stop by and say hi! No reservation required.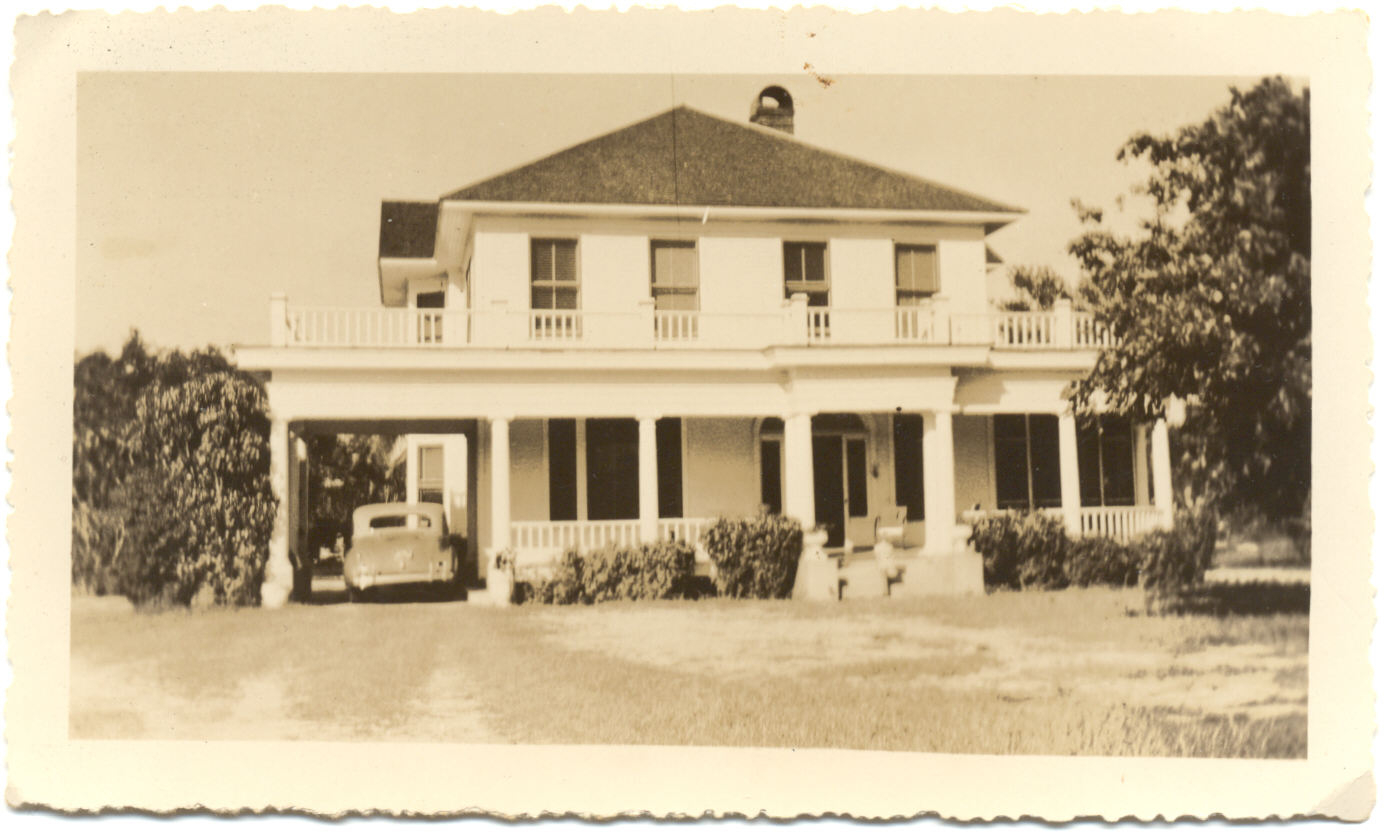 JOHN W. ROBERTSON, SR.
Born and raised in Pompano Beach, FL, passed away on February 17, 2016, in Fayetteville, Ga at the age of 80. He was born to the late Mary Christine and George Ervin Robertson. He was a Beanpicker, class of '55 and served two years in the U.S. Army. John retired from FPL after working there for over 20 years. He was a founding and lifetime member of the Fort Lauderdale Coin Club. John is lovingly remembered by his wife, Jackie Robertson; his children, Nancy, Gail, John, and Frances; grandchildren, Barry, Jr., and Julie; and sister, Jeanette. John was preceded in death by brothers, Jim and Ervin, and sisters, Harriet and Dorothy.
A memorial gathering will be held on MONDAY, May 2, 2016, from 4-5 p.m. followed by a service from 5-6 p.m. at the First United Methodist Church - CHAPEL in back (210 NE 3rd St, Pompano Beach, FL 33060).
In lieu of flowers, memorial donations may be made in John's memory to the Pompano Beach Historical Society. http://www.pompanohistory.com/in_memory_of_john Or mail check to: Pompano Beach Historical Society, PO Box 154, Pompano Beach FL 33061. - See more at: http://www.legacy.com/obituaries/sunsentinel/obituary.aspx?n=john-w-robertson&pid=179720233#sthash.p11GPKLy.dpuf
EVELYN CURRAN
Sympathies are extended to Tom Curran on the loss of his mother, Evelyn Curran. Our thoughts and prayers are with Tom and his family.
E.L. "BUD' GARNER
JANUARY 16, 1927 - APRIL 21, 2016
Pompano Pioneer, E.L. "Bud' Garner, resident since 1927, Official Pompano Historian, Farmer and Salesman passed away yesterday April 21. 
Bud was 9 months old when his family moved from Edwardsville Alabama to Pompano. He graduated from Pompano Beach High School in 1948. He would have graduated sooner but he left school at 16 to join the Navy. In 1949, Garner married his wife, Doris. They had for children, one of whom has passed, seven grandchildren and four great-grandchildren.
Garner penned his own book about the early days of the city, Tales of Old Pompano, with proceeds benefiting the historical society.
He will be missed by all. Our thoughts and prayers are with his family.
Service Information
Tuesday, April 26, 2016
Visitation at 1:00 pm - 3:00 pm
Memorial Service at 3:00 pm - 4:00 pm
First Baptist Church
138 Ne 1st Street
Pompano Beach, FL 33060
(954) 745-6100
In lieu of flowers, gifts may be made to :
The Ministries of First Baptist Church of Pompano Beach 
or The Hillsboro Lighthouse Preservation Society.
for full obituary:
http://obits.dignitymemorial.com/dignity-memorial/obituary.aspx?n=Edward-GARNER&lc=7098&pid=179724500&mid=6900888
ART IN HOUSE at Sample-McDougald House with Lee Krull
Thursday, May 5, 2016 from 5:30 to 8 pm
Artist Lee Krull is a self-taught Florida artist who has worked as a commercial artist as an illustrator and layout artist for 35 years. Since 2011 she has been creating fine art working in oil and watercolor. She has exhibited in juried art shows and won awards from Ft. Lauderdale to Jupiter. She has also received a grant for art in public places and has been commissioned for her work. For more about the artist see www.leekrull-artist.com.
Art will be available for purchase during the exhibit and will remain on display throughout the month of May. Light refreshments will be served. A $5.00 admission applies.


"Chasing Tail"
JOHN ROBERTSON
FEBRUARY 17, 2016
Pompano Pioneer, John Robertson, passed away on February 17, 2016. John was a Beanpicker, class of '55. His family is planning a memorial for Monday, May 2 at the United Methodist Church. The memorial will be from 4:00 - 5:00 pm followed by a service from 5:00 - 6:00 pm. When we receive more information, we will pass it on to you.
The family has asked that in lieu of flowers, donations be made to the Pompano Beach Historical Society. We thank them for thinking of us at this very difficult time. 
Donations may be made at our website: 
http://www.pompanohistory.com/in_memory_of_john
or mail check to:
Pompano Beach Historical Society 
PO Box 154, Pompano Beach FL 33061

Our thoughts and prayers are with the family.
MARION FAY KESTER
JULY 11, 1928 - APRIL 4, 2016
Kester, Marion Fay of Lighthouse Point, beloved wife, mother, grandmother, great-grandmother and friend to many, passed away peacefully on Monday, April 4, 2016 at John Knox Health Center. She was born July 11, 1928 in Bridgeport, CT. She married Stewart Randolph Kester on September 23, 1950 in Devon, CT. Fay and her husband Stewart settled in Pompano Beach, FL in 1955 where they resided until 1970 when they moved to Lighthouse Point.  Fay was a member Pompano Beach Historical Society and active in the Pompano Beach Exchange Club with husband Stewart. She devoted countless hours volunteering at the First Presbyterian Church of Pompano Beach by serving as a deacon. She will be sadly missed by all who were fortunate enough to have known her.  In lieu of flowers, donations may be sent to the First Presbyterian Church or ALS Association Florida Chapter 3242 Parkside Center Circle Tampa, FL 33619 
See more at: http://www.legacy.com/obituaries/sunsentinel/obituary.aspx?n=marion-fay-kester&pid=179528447#sthash.7B7oRekt.dpuf
MONTHLY MEETING - WEDNESDAY, APRIL 20, 2016 - 7:00 PM
The speaker for our April 20th meeting has been confirmed! We will have a presentation by Sally J. Ling at the Hood Center. Ms Ling is an author living in the South Florida area. She has written hundreds of articles for South Florida magazines and was a special correspondent for the Sun Sentinel for four years. She will discuss her latest book, 'Al Capone's Miami: Paradise or Purgatory.' She will will have copies of her book available for purchase.
To learn more about 'Florida's History Detective'  visit her website:  http://sallyjling.org
POMPANO PIONEER CORNELIUS ROMAINE 'NEAL' VINKEMULDER
October 24, 1933 - April 1, 2016
Broward County Pioneer, Cornelius Romaine "Neal" Vinkemulder, 82, of Coconut Creek, FL, passed away on Friday, April 1, 2016, at North Broward Hospital in Pompano Beach.
He leaves his wife of 56 years, Joyce (Harper) Vinkemulder; his son, James "Jim" Vinkemulder of Coconut Creek, daughters Linda "Harper" Vinkemulder of Boston, MA; Carol Ann Vinkemulder-Hamel and her husband, Paul, of Coconut Creek. He was predeceased by his son John "Jack" Vinkemulder. 
To read complete obituary, please go to : 
http://obits.dignitymemorial.com/dignity-memorial/obituary.aspx?n=Cornelius-Vinkemulder&lc=7098&pid=179504738&mid=6873126
A viewing will take place on Wednesday, April 6, 2016, from 6:00 to 8:00pm at Kraeer Funeral Home, 200 N. Federal Hwy, in Pompano Beach. A memorial service will be held on Thursday morning, April 7, 2016, 10:00AM, at the First Baptist Church, 138 NW 1st Street, in Pompano Beach. 
In lieu of flowers, the family requests that donations be made to the Rotary Scholarship Fund, P.O. Box 94, Pompano Beach, FL 33061, in memory of Neal Vinkemulder.
FLORIDA REGISTER OF  HISTORIC PLACES  - TUESDAY MARCH 22, 2016 - 6:00 PM
The Pompano Beach Historical Society's Jerry Bowman presented the City Commission a plaque of the 14 recognized sites on the Local Register of Historic Places at the Commission Chambers on March 22. Two of the sites are also listed on the National Register* - The Indian Burial Mound and The Sample-McDougald House.
The 14 recognized sites are:                                                                                                                                                         Austin House, 410 NE 5th Avenue
First United Methodist John Foster Chapel, 210 NE 3rd Street
House of God Church, 600 NE 18th Street
Potter Funeral Home, 317 NW 6th Street
Pioneer Monument, 1801 NE 6th Street
Burial Mound within the Indian Mound Park, SE 13th Street & Hibiscus Avenue*
Blanche Ely Building, 1500 NW 6th Avenue
Sample-McDougald House Centennial Park, 450 NE 10th Street*
East Kester Cottage Founders Park, 217 NE 4th Avenue
West Kester Cottage Founders Park, 217 NE 4th Avenue
The Bethel African Methodist Episcopal Church, 405 NW 3rd Avenue
Fire Station No. 1 Founders Park, 217 NE 4th Avenue
Pump House No. 1 Founders Park, 316 NE 3rd Street
Bailey Hotel, 41 NE 1st Street
*                                               
Our friends and 'historical' neighbors at the Alice B & JD Butler House are having their annual fundraiser dinner this Thursday, March 24. 
OUR SYMPATHIES GO OUT TO THE FAMILY AND FRIENDS OF WILLIAM JAYCOX.
In Memory of
William Dickson Jaycox
February 13, 1932 - February 23, 2016
Jaycox, William Dickson (Clancy), 84, of Pompano Beach, passed away February 23, 2016. Bill was born February 13, 1932 in Chicago to the late Dickson and Mary (Miller) Jaycox . He served his country honorably during the Korean Conflict and was discharged as a Corporal. Upon his discharge, he was awarded the National Defense Service Medal. Bill may have been best known as the other half of Santa & Mrs. Claus, where he and his late wife rode atop the fire engine in the Pompano Beach Yuletide Parade. He was also known as Clancy – The Irish Troubadour, singing Irish songs at concerts during the week of St. Patrick's Day. In 2004, Bill composed the song, Florida's Pompano Beach and it was proclaimed the official song of the City of Pompano Beach. He and his wife, touched the hearts of many children across Southern Florida, he gave them hope and promise for a better future. Bill was predeceased by his beloved wife, Joanne on May 29, 2014 and grandson, Officer David Aaron Haynes, sibling, Mary Catherine McCarthy, Richard Jaycox, Anna Mae Cole and Thomas Jaycox. He is survived by his daughter, Janet Evans and grandson, Hardin Thomas Haynes, great grandsons, James and Thomas Haynes and brother, Joseph Jaycox. A Celebration of Life Service will be held Thursday, March 17, 2016, 10:00 am at Forest Lawn Funeral Home North, 200 West Copans Road, Pompano Beach where he will be interred with his wife.
Final Stanza from 'Florida's Pompano Beach' Song:
Pompano Beach
I'm very glad I found
Such a fine home town
And I'm here to stay
Pompano Beach
with all Your friendly ways where
Every day is certain just
To be a good day.
Now I've lived in Different cities, some were
Big and some were small.
But none had been so Pretty.
None had suited Me at all.
Cause home is where The heart is, that's always
What they preach.
So I'm very glad my
Home is here in Pompano Beach!
Click to read write-up on Bill in the Pelican Newspaper.
http://pelicannewspaper.com/wp-content/uploads/2016/03/Pelican-3.11.16.pdf
HISTORIAN AND EXECUTIVE DIRECTOR OF SAMPLE-MCDOUGALD HOUSE, DAN HOBBY RETIRED FEBRUARY 24 AND WHAT A PARTY IT WAS.
The name is synonymous with Pompano Beach; if you need or want to know anything about the history of the city, he's the man to go to. For that matter, anywhere in Broward County. He may have retired but luckily for the Sample-McDougald House and the Historical Society he plans to still be available to share the wealth of knowledge garnered over a forty plus year career as a historian, historical society's and museum's director and an author.
Dan's retirement was an impressive event held at the Sample-McDougald House and the city turned out in force, including the Mayor, to honor him for his service to the City of Pompano Beach. If it wasn't for him, there might not have been a Sample-McDougald House to hold his party. He was instrumental in the move and refurbishment of the house in 2001.
Originally from St. Petersburg, FL, Dan moved to Pompano Beach in 1979 after completing his Master of Arts in History at University Of Florida. He taught at Broward Community College, then moved on to become the Executive Director of the Ft. Lauderdale Historical Society, the Pompano Beach Historical Society and until his retirement, the Sample-McDougald House Preservation Society.
As both a historian and author he has published books on Pompano Beach, Lighthouse Point and Fort Lauderdale, as well as writing articles for the most of the local papers and magazines.
I think I can speak for all in wishing Dan all the best in his retirement and his "new position" coaching his granddaughter's soccer team.
SAMPLE-MCDOUGALD HOUSE HOUSE PRESERVATION SOCIETY'S ANNOUNCED THEIR NEW DIRECTOR
The Sample-McDougald House Preservation Society is proud to announce and welcome Melissa May as the non-profit organization's new Executive Director.  
She brings to the SMHPS a strong background in museum management, having served as the executive director of the Pricketts Fort Memorial Foundation in West Virginia, where she managed a living history museum representing 18th century life on the frontier.  She also has held museum positions at the Ah-Tah-Thi-Ki Seminole Tribal Museum as well as the State Museum of West Virginia.  Ms. May has served in a number of leadership roles within the museum field, including president of the West Virginia Association of Museums. 
She is replacing current executive director Dan Hobby, who will be retiring after 15 years with the SMHPS and over 35 years in the museum field.  As the organization's initial executive director, he oversaw the moving, restoration and opening to the public of the historic Sample-McDougald House.
Ms. May will be responsible for providing strategic leadership in the on-going operations and future developments at the landmark Sample-McDougald House and Museum. Dirk DeJong, SMHPS board president, stated "We are extremely excited to welcome Melissa May to the organization, and look forward to her building on our existing strong foundation to take this organization to the next level of service to the community."
'WHAT'S YOUR STORY' HISTORICAL PHOTOGRAPHIC EXHIBIT AT THE BAILEY CONTEMPORARY ARTS BUILDING
Our February 17th Meeting at the BaCA Building was interesting, informative and so much fun! Ms. Emma Ellington, President of the Pompano Beach Women's Club, and her childhood friend, Katie Wiggins were our featured speakers. Ms. Ellington and Ms. Wiggins were born and raised in what was called 'The Projects' and they shared stories of a time and place many of us didn't know. They told stories of snakes and alligators, working on farms and building businesses. All the stories were compelling and insightful; we could easily have listened longer. Although I must say the visual aids and the way they were able to 'draw' us right into the stories with that map was the high point of the night!
Thank you again ladies; it was a wonderful night.
Thanks also to Sarah Benichou and Grace Gdaniec for allowing us to hold our meeting in the gallery room. We were lucky to have a preview of BaCA's latest exhibit 'What's Your Story" featuring photographs and stories of the people of Pompano's black community who helped shape this city. It is definitely worth seeing.
The Opening Reception for the exhibit was on Thursday, February 25th. The photos will be available for viewing through March 16. 
Bailey Contemporary Arts
41 Ne 1st St. Downtown Pompano
HILLSBORO LIGHTHOUSE 109th BIRTHDAY
On Sunday, March 6, the Hillsboro Lighthouse Preservation Society celebrated the 109th anniversary of the Hillsboro Lighthouse and unveiled the new Florida Historical Marker, dedicated to all the local lighthouse keepers. The weather could not have been better. If you missed the birthday celebration there are plenty of chances left to receive your award for surviving the 175 step climb to the top of the lighthouse.
The Lighthouse was first illuminates in March 1907 following a 4,000 mile trip through part of the waterway known as 'The Great Loop'  The original light was an incandescent Oil Vapor Lamp (similar to a "Coleman Mantle Lamp") in a revolving Second Order Fresnel Lens. A Lighthouse (head) keeper and two assistant keepers kept the light lit. In 1932 the light was electrified with three 250 watt bulbs which were replaced in 1966 with one 1,000 watt increasing power to 5.5 million CP and a range of 28 NM. The light is the only working Fresnel lens in the world.
The lighthouse's nickname is Big Diamond due to the structure's distinctive shape of glass outside its lantern room .
Tour Schedule for the rest of this year are:
April 9
May 14,
June 11,
July 16,
August 20,
September 10,
October 8,
November 6 and
December 3.
Call 954-942-2102 or email info@hillsborolighthouse.org for more information.
The Hillsboro Lighthouse Preservation and the United States Coast Guard work together to preserve and promote this historic landmark.
MARCH 16TH MEETING
Our March meeting will be on Wednesday, March 16. Doretha Hair Truesdell will be our speaker! Ms Truesdell is the widow of Alfred Hair, and the sister of Carnell Smith, both original  Florida Highwaymen. She will speak on what it was like to have the birth of the Highwaymen Movement take place in her own back yard. A Highwaymen artist herself, she will also show her own paintings  in The Florida Highwaymen Exhibit and Art Sale at the Sample-McDougald House, which is also celebrating their Centennial year! We will be back home, at the Hood Center for this meeting. 7:00 pm social with refreshments followed by Ms. Truesdell's presentation.
THE FLORIDA HIGHWAYMEN ARE COMING BACK TO THE SAMPLE-MCDOUGALD HOUSE 
The Florida iconic landscape painters are returning to the Sample-McDougald House with hundreds of original paintings for display and sale.
PREVIEW NIGHT
FRIDAY, MARCH 18, 2016
5:00 PM - 8:30 PM
ADMISSION: $35.00
Preview night will include an auction of donated paintings by the Florida Highwaymen artists. There will be live music and refreshments will be served. In addition to the auction other Highwaymen paintings will be available for purchase. Don't miss the opportunity to meet these talented artists and view their iconic work.
Tickets for this night can be purchased at www.pompanohistory.com
---------------------
HIGHWAYMEN ART SHOW & SALE
SATURDAY, MARCH 19, 2016
10:00 AM - 5:00 PM
ADMISSION $5.00
A second chance to meet some of the Original Florida Highwaymen and view their vibrant and colorful paintings of Florida at it's best. 
Tickets sold at the door. 
Hosted by the Pompano Beach Historical Society and the Sample-McDougald House Preservation Society
For more information call 954-961-5686 or 954-782-3015
POMPANO BEACH LOCAL REGISTER OF HISTORIC PLACES
The Pompano Beach Historical Society will present a plaque listing the 14 Registered Historic Places located in Pompano to the City Commission on March 22 at 7:00 pm. All are welcome to attend.
GREEN MARKET
The Green Market is growing and getting better and better. We have fresh organic produce and another stand with fresh berries. 
Just this week Paul joined the market selling Sabrett Hot Dogs. There is local honey, NY pickles and specialty teas and coffees. Handmade jewelry and silkscreen shirts.  The market is every Saturday from 9 am to 2 pm through April. Stop by and support the Pompano Beach Historical Society and Pompano Beach CRA
TROLLEY TOURS
The March Trolley tour is sold out, but still have seats for other dates and they are still only $15.00 per person.
Tour starts at the Pompano Beach Historical Society at Founder's Park where you can tour the Kester Cottages from 9:00  until boarding the bus at 10:00. The two-hour narrated tour will include the Sample-McDougald House, Old Downtown, the Hillsboro Lighthouse Museum as well as a number of 'hidden' historic sights. Still have company from up north? 
Open Tour dates:
May 14
July 9
September 10
November 12
Call Judy at 954-609-7974 for more information.
POMPANO PIONEERS:
Joe Mimms
Mims, Joseph Thomas, 67 of Pompano Beach passed away on Wed. Feb. 24. A native of Pompano Beach, he graduated from PBHS in 1966 and went on to Broward Jr. Community College. He worked in the family business, Tom Mims Appliances, until it closed and opened and operated his own appliance service in Pompano Beach until he retired. He was Past Master of Pompano Masonic Lodge #263 and Worthy Patron of Pompano Chapter 187 Order of the Eastern Star. Predeceased by his son, Ashley Winston Mims, parents, Tom and Alice Mims and his brother, William C. Mims, he is survived by his son, Thomas Grey Mims; sister, Joann (William) Vasseur; granddaughter, Olivia Mims; niece, Michelle (Brett) Olitzky; nephew, Michael Vasseur; great-nieces and nephews: Chelsea, Andrew, Jacque, and Jared; cousin, Fred and Aunt Pauline Staples. Joe was a very friendly and kind man and will be missed by many. Visitation will be on Tuesday, March 8th from 4-6 with a 6pm memorial service at the funeral home. Arrangements were made by: Kraeer Funeral Home and Cremation Center, 200 N. Federal Hwy., Pompano Beach, FL 33062. Phone: 954-941-4111. - See more at: http://www.legacy.com/obituaries/
Do you like this post?